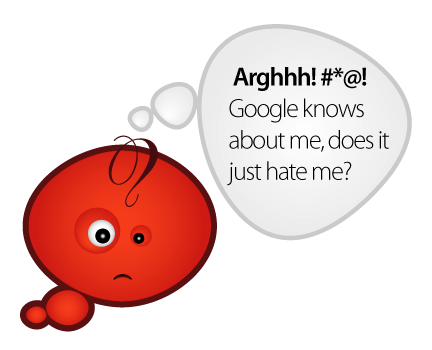 Anyone in the industry knows the problem, we've all been there, we've all had this problem at some point.
You've got a nice website, its all built to the latest standards and for some reason, months later, its still not appearing in Google's index. It has been submitted to Google and still nothing is happening with it.
Arrrrgggghhhhhhhh
Yes, its always the first reaction but to be honest there is no reason to panic. There is most likely nothing wrong with your website.
Take for example www.southamptonmotorcyclehire.co.uk. Its a very nice website, its got a fair amount of text for the search engines to pick up, but after the first three months there was nothing about it in the Google index.
The Next Step
First, lets check to see if Google knows about your site at all. You'll need to make sure that your site is registered with webmaster tools and that you are verified as an owner to the site with your Google account. You can then select "Diagnostics" then "Crawl Stats" from the left hand menu and that will show you the number of times that the Googlebot has visited your site recently. If it hasn't been visited at all then your submit request probably failed and you currently have no links to your website. Basically the key here is to get links to your site, not only will the links let Google know you exist, it will help your ranking.
Ok, Google knows about me, does it just hate me?
Even if you have been crawled by Google this isn't automatically a major problem. Unfortunately Google won't tell people why their site hasn't been listed.
The number 1 issue here is going to be quality. If most of your text on your website is used on other sites around the web, you have few links to your site or similar issues then it may be you've fallen foul of the quality filter. Using www.southamptonmotorcyclehire.co.uk as an example again, we found the site had been crawled fine for the last three months by the Google and it had a record of the site.
So we look at the content, Copyscape is a great site for this, while its not perfect and will not find every copy of your content on the web it is generally a good guide to see if your information is been copied and is being hit by the duplicate content filter or not. Even if your site isn't listed here then check sites on the keywords you are trying to rank for. If their text is very similar to your's then it may still be taking a hit here, it may not be penalised for this but it is likely having the value of it's content devalued.
The next factor to look for is the number of links to the site, the best place to check this is by using Yahoo Site explorer. This will list almost all of the links to your website. If you have a low number of links or none, it is a sure sign that Google probably doesn't regard your site as valuable.
In general in these cases its best to work on links first if you have a low number then rewrite your content to be a bit different from your competitors who are already ranking highly.
Once Google's quality rating for your site has increased either due to more unique content or more links to your site, it should start appearing in the index within a month of you making the changes.
---